Empire Magazine Australia has a ten page spread on The Rover. It features a set report, new interviews with Rob, Guy and the crew and a few new stills.
ETA: Transcript of Rob's interview and Guy's comments about Rob under the scans
Set Report + Interviews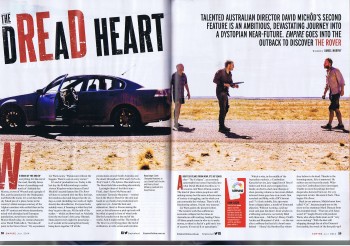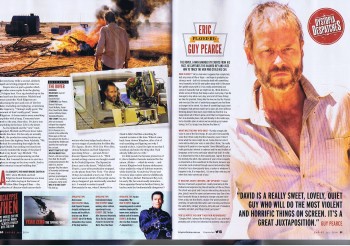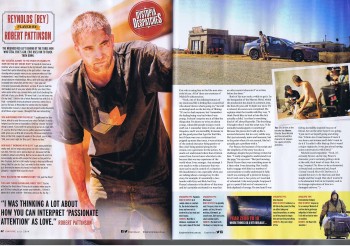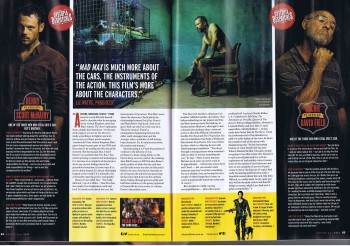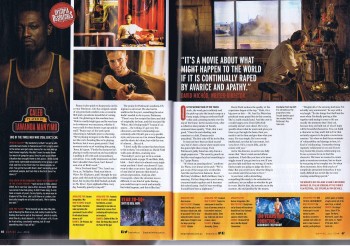 Review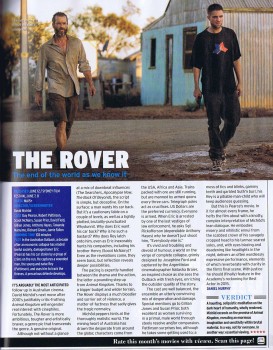 Transcript

From the main article - Rob's quotes and Guy and producer Liz Watts' comments about Rob
Both of his stars took a while to get it. In the beegarden of the Marree Hotel, which the production has made its common area, the then-26-year-old
Twilight
star is relaxed, his scenes now completed. He explains what the trouble with Rey was.
"I think David likes to look at him like he's actually a child, 'cos there's something kind of off about Reynolds. The first thing I thought when I read the script was, 'Is he mentally handicapped or something?' Because the pieces don't add up like a normal character, but in a very subtle way. He's just extremely naive and innocent, but to the point where it's not normal, like he's actually got a problem with it".
(...)
Pearce is also quick to heap praise on his co-star Pattinson, who has stepped outside any perceived comfort zone, covered in filth and a prosthetic mouthful of rotting teeth. No glittering in the sunshine here.
"Rob is a really bright guy and he was keen to do whatever was necessary, whether it was to talk for three hours or get up and do stuff,"
Pearce says of the week spent rehearsing in Adelaide prior to shooting.
"We're playing strangers in the film, so it's not lie we're bonding like we're playing brothers, but it was a great period. I had moments early on of watching him going 'Jesus, he's great.' Firstly the character he's playing is really messed up and secondly he is pulling it off with such extraordinary conviction. I was really impressed, and not that I shouldn't have been, but I haven't seen a lot of Rob's work."
Not a Twi-hard then?
"No, I can't say I'm a, er, Twilighter. I had seen him in Water for Elephants, and I thought he was great, and obviously he's got that incredible head, but to play this little fucked up dude in The Rover, I just applauded him every day basically, quietly to myself."
The praise for Pattinson's southern-US ingénue is universal. He has to audition for the part, something the actor hadn't needed to do in years. Pattinson:
"There's very few scripts that have any kind of originality in them, and this was just like 'Whoa, this is being made?!' I mean it's so sparse... the writing, it's got very few characters, and their relationships are extremely odd. David's got a very specific style, and you can see it in Animal Kingdon and the shorts he's done, but with this one it's almost... like sci-fi.
"I don't really like scripts that have beats to hit in them,"
he continues as David Field walks past shirtless, cracking wise.
"Normally if you've got to hit a certain emotional point at page 22 and blah, blah, blah -- that's what is in almosst every single script you find. I don't even know if I can do that as an actor. I get really afraid of any kind of pressure that there's a certain expectation. And just after Cosmopolis, where the structure was so different, it was kind of quite freeing -- you could turn up to work and actually find what happens, and this is like that."
(...)
It may not have been an ideal second run, but it's been a shoot where much more has gone right than wrong. Even Pattinson's giddy fame has only drawn a single paparazzo.
"The security guards on the film were happy they had something to do,"
quips Pearce.
"It's been an amazing shoot,"
confirms Liz Watts, over dinner at the pub.
"We've got a top of the range crew in this film. And the cast has been fantastic. Scoot McNairy's brilliant. Rob's brilliant, Guy's amazing. It's that thing when you're away, everyone bands together and it becomes this school camp. And it's been working It could have been a nightmare."
Rob's Interview
Rey is naive almost to the point of disability. How did you get inside him?
"A friend of mine has a brother who is never allowed to be by himself. And I always found that quite interesting as he gets older – how you develop when people view you as someone who can't be independent. I was thinking about that a lot, and also about abusive relationships. Why a wife will stay with her husband who beats her all the time – how can you interpret 'passionate attention' as love. If you've had the shit beaten out of you your whole life by your dad, then when some other guy comes along and starts beating the shit out of you, you think, 'Oh wow, that's 'cos he loves me, it's my fault'. I think a lot of what Reynolds has with Eric is that – constantly trying to please someone, when Eric is just furious at Reynolds the entire time for totally inexplicable reasons. I mean he just projects onto Reynolds all of those anger issues. I thought that was interesting."
You auditioned for this role?
"I auditioned for this twice, which is only the second one since
Twilight
. It really helped, just to have a foundation. Getting 'chosen' for one thing is great: 'Cool, well I'm going to go as far as I can with it'. Just by the fact that you've gotten approval to begin with, gives you a little bit of security. Whereas most of the time, in the first couple of weeks of the shoot, you're like 'Shit, am I even right for this part? I have no idea."
How was it working with Guy?
"I get along with him really well. At the beginning when we were rehearsing, I was like, 'Oh shit, we're gonna bust up', because he'll be stubborn about everything. But he cares about it a lot. He occasionally works with people he's been acting with for like 25 years, but he's still really trying to find our different things that he can do. Guy's so weird in this movie – even just the way he moves his head, he looks like an alien [laughs] - maybe that's just his face."
What has been the hardest part?
"Ah, just the flies!"
You have those in England, don't you?
"You're attacked by them here! Trying to do the scenes when you've got 50 flies trying to get inside your eyeballs… I think it added to it after a while – the heat, and just fly, fly, fly…"
Via