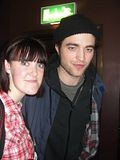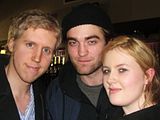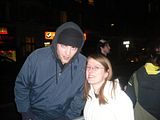 From
CaptainCharghli
Cant believe jus been 2 c bobby long and kitty,daisy+lewis,and RPattz+brit pack all stood at the bk.RPattz was really drunk but really hot!
@GQRobFTW yes TomStu was there! and obviously Bobby Long too as he was playing at the gig
From
sammi_jade
robert pattinson... half an hr ago was at bobby long gig, he was drink and with some actor. friend russell was with his gf bernie.
they see robert pattinson at bar drunk. asks for a pic with him he says yes "but i prob look like i pissed myself as i spilt bear down me"
BOBBY LONG GIG, INDIE MUSIC HE IS DRUNK AND SPILT BEER ON HIMSELF AND SAID TO MY FRIEND "PROB LOOK LIKE I PISSED MYSELF"
From
vampirefreak101
was standing outside chatting with marcus/ smoking with @kellyjez , & rob & tom arrived & rob asked me if i was cold .aww. lol.
then i politely asked if i could have pic taken with him, i apologised for keeping him out in the cold longer.. twitpic coming up!
and rob asked @kellyjez if she was enjoying london :)
rob, tom, marcus all at bobby gig & were drinking in the bar. rob & tom arrived after bobby
Pictures:
CaptainCharghli
|
sammi_jade
|
vampirefreak101
|
kellyjez